"Teamwork is the ability to work together toward a common vision. The ability to direct individual accomplishments toward organizational objectives. It is the fuel that allows common people to attain uncommon results."
Sally Weiss . Owner/Stylist
Sally has over 25 years of experience, specializing in hair color design, color correction, women's hair prosthesis, and hair design. She has studied at the Hair dynamics Education Center, Toni and Guy Ambassador Program, American Crew Men's Barbering and Cutting Techniques, and the International Hair Academy for Men's and Women's Hair Replacement and Design Techniques. She also has special training in human and synthetics hair prosthesis, hair extensions, and color correction. She is also certified with Wigs for Kids. Sally has built a fun, welcoming, and professional environment where clients can feel comfortable and receive the best hair care available. Sally's team of hair care professionals are constantly learning new and exciting hair techniques and trends in hair care.
Alex is a Colorado native with 3 years in the cosmetology industry. She graduated from The Salon Professional Academy with education in the Redkin and Principal Based Design cutting. She loves getting to be creative with color and has taken Pravana and Paul Mitchell color system courses. She has a passion for women going through hair loss and helping them along their journey and is certified with Wigs for Kids. She enjoys forming relationships with her guests and loves making people feel great about themselves. Alex loves spending time in the Mountains and you can also catch her slinging some Colorado craft beer at Berthoud's local City Star Brewery!
Davison (Dave) is a Colorado native with 4 years in the cosmetology industry. He studied at Hair Dynamics Education Center. He loves being creative with clients who enjoy going blonde and doing fun fashion colors. He has a passion for cutting in men's hair and doing perms. He enjoys interacting and building relationships with his clients and making them feel great. In Davison's free time you can find him doing outdoor actives with his dog, anywhere from a day at the dog park to hiking and letting Loki chase sticks in the rivers of the beautiful Colorado Rocky Mountains.
Rachel Ashurst . Salon Coordinator
Rachel is a Colorado Native and a cosmetology student pursuing a career in hair styling and makeup artistry. She loves meeting new people and sharing smiles, so she loves interacting with everyone who comes to our salon. Rachel enjoys working with Old Town Hair Company's clients because everyone has unique stories to share. In her free time you can find Rachel doing yoga with her cat, Kevin, or creating wacky new makeup looks.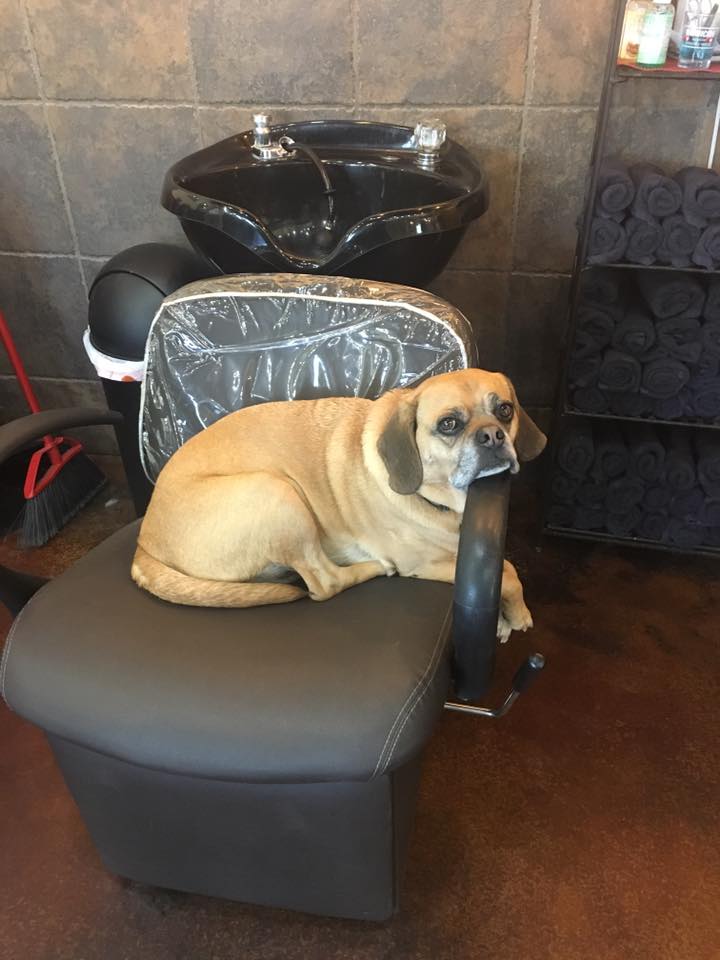 Chance. Salon Pup/Door Greeter
If you are a regular guest in our salon you probably recognize this sweet face. Chance is our 8 year old puggle who happens to love to come to work with our owner, Sally. He is a wonderful door greeter with a love of cookies and naps in the sun. We just ask that you don't mention anything about the UPS man - he gets a little worked up ;)
Blue is a sweet black lab that loves his mama Alex more than anything in the world (except for maybe cookies). He can be a bit timid at first but once he makes a friend he will love them forever.